The Silk Buyer
By Aksinia Astakhov Part 3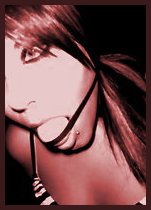 The door of my cell opened and Zuleykha stood there, concern showing on her face, and holding a silk dressing gown. "Oh my dear, there's been a terrible mistake, they have put you in the wrong room. Please come with me. Here, put this on." She tossed the gown to me and, blushing, turned away to allow me to dress. If she was lying it was a good act. "I am so sorry, you must believe me. I blame those two assistants of mine, they are getting , how do you say in English, too big for their boots?"
Meekly I followed her, glad to be out of that small space. It was immediately obvious that this was no prison, as my bare feet made contact with sumptuous and colourful rugs outside the door. It didn't feel like a hotel either. Her private residence perhaps? Just a few yards down the corridor, she opened a door and led me into a light airy and open room with a magnificent view down over desert dunes to the sea some miles away. But I couldn't also help noticing the high white-painted wall surrounding the place, and the black-clad security guards strutting about.
"Please get ready for Dinner in half an hour, you'll find clothes in the wardrobes."
She breezed out, but I heard her lock the door from the outside. Well I didn't have much alternative, so I did as I was told. I wasn't happy about that but it just seemed futile to resist. I began to wonder if they'd drugged me to break down my resistance, they certainly had no qualms about that when they abducted me and brought me here. What was going on?
Anyway, the shower was wonderful, and I anointed myself with the Yves San Laurent skin lotion and beauty products in the bathroom. There was a gorgeous selection of dresses, all silk, and I chose an elegant black halter neck full length design. Everything was my size, even the stiletto shoes, and as I put them on I realised I wouldn't be able to run very fast or far in them, so escape was going to be a problem in this outfit.
Any attempt at planning an escape was cut short. There was a knock on the door and it was unlocked by one of the male bodyguards, who gestured to me to come with him. A second guard moved to block the light from the doorway, and I could see there was no point in making a run for it yet. They escorted me, without force, up higher within the building, to a large room with a dining table in the centre, big enough for maybe 12 people to sit round, but with only 2 places set at one end. There were no windows, although most of the ceiling was a skylight. The walls were draped in silk of dark red, gold and brown shades, as if to resemble the sides of a tent, and I guessed this was meant to allow those who lived here to imagine they were nomadic Bedouin Arabs. The bodyguards left me alone and I wandered around the room admiring the quality of the silks and also the various sculptures and art pieces placed here and there on small tables or on the floor. At the far end was the white horse statuette that had adorned Tamara's hotel room, taken no doubt as a trophy.
There was a sweetness of incense in the air, and as in my room a thick soft carpet on the floor. Whoever owned this place was very rich and wanted any visitor to know it.
Zuleykha entered at the far end. "Darling Honor, you look stunning in that dress, I had a feeling you would choose the black one."
She herself was dressed in white, with gold jewellery, her hair covered by a silk turban.
"Welcome to my home. We're going to have a wonderful meal, but before we eat I have a little performance I'd like you to see." Moving to the wall, she pressed a button and the silk drapes to my left began to open in the centre, revealing a large window looking down onto another room. We were maybe 6 feet above the floor level, which was made of slate grey tiles, and the walls were of a similar dark grey hue. Fluorescent lights gave it quite a stark and rather depressing appearance. I wanted to ask all sorts of questions but she continued.
"This is a one-way mirror and soundproofed so whoever is down there can't see or hear us, but we can see and hear them." She pressed another button and there was a faint buzz of speakers picking up the background noise from the room below.
In the centre of the room a metal pole about 3 feet long was lying on the ground. At each end a chain was fixed, both of these going upwards to rings in the ceiling and returning down to winches fixed to the wall. All in all it looked like a dungeon and I had a queasy feeling.
Shams and Badra walked into the room, followed by Tamara being manhandled by the bodyguards. Her long hair was pulled back into a single plait, and she was dressed in a tight black under-bust corset and black stockings, and her hands and arms were encased in long black gloves. She was gagged with a bridle bit of the sort used on a horse, and a black collar was around her neck, with a chain attached, held by one of the men. Her demeanour was defiant, and she writhed in a vain attempt to get free.
"Time for Tamara to take a camel ride" said Shams, glancing up towards us although she could not see us through the one-way glass. I could not guess what she meant but I assumed, rightly as it happens, that this would not be a visit to a zoo. In fact, I reflected, I had not seen any camels during my trip to this Middle Eastern region. I had naively assumed they would be everywhere.
Tamara mumbled something incoherent through her bridle bit, which brought a surly response from Shams. "Keep quiet bitch, or my gentlemen friends here will find something more substantial to plug your mouth with. Not that anyone would hear you anyway, you're a long way from home girlfriend, no cellphones, no internet, not even a bus once a week".
Tamara was pulled to the centre of the room and made to stand over the metal pole. The guards kept a firm hold of her, as switches were pressed and unseen winches whirred into life, pulling the chains and raising the pole slowly off the floor and into her crotch. Forced to straddle the bar, she began to writhe and squirm and began to shout out most pitifully, but her gag made this difficult of course. The pole continued slowly upwards forcing her onto tiptoes. Badra bent down and fixed a metal pole to her ankles with straps, which had the effect of keeping Tamara's legs apart. Shams took something from one of the bodyguards, a small white object which she placed on the pole and pushed into Tamara's already pressured crotch. The bodyguard wrapped tape around it to hold it in place and through the speakers I heard the familiar sound of a vibrator. Next a leather belt was fastened around her waist and arms, pinning them together. The guards no longer held her but she could not escape her predicament. A hood was then put over her head - "camel skin", I was informed by Zuleykha. "Ah yes, I see", was all I could say. I could not take my eyes from the scene, and was secretly delighting in the spectacle although I could easily imagine how Tamara felt by now. As the vibrator began its fiendish work, Tamara's breasts began to bounce up and down. I quickly suppressed a smirk at this sight, realising that the roles might be reversed and I might be next.
But they weren't finished. Clamps were applied to her exposed nipples, and a riding crop was then used liberally over her buttocks and breasts. The hijab that Shams wore pulled tight against her face as she exerted herself with the crop. From time to time Badra would lean in and playfully flick the nipple clamps.
Zuleykha pressed the button on the wall and the drapes began to close. The speakers were silenced and she and I were again alone.
"What will you do with Tamara?" I asked.
"Oh, to get her out of the way she will be arrested on charges of drugs crimes, bribery and that sort of thing, typical Western failings which you know of course aware the authorities here treat rather harshly. Perhaps after a few months she will be quietly released into the custody of a local sheik who needs a new wife for his harem. Did I tell you I had relations in the police force, government and royal families?" She smiled at me, her face a picture of innocence.
"Err, so, may I ask what happens next, what happens...to me?"
"I want to persuade you to join us, Honor. Unlike Tamara, we think you would make a marvellous addition to our company, and we want you to sign up voluntarily. Have a drink". She walked towards a sideboard, and opened it to reveal wine bottles and glasses. I was really not surprised to see alcohol here, as it appeared that Zuleykha did not abide by any rules, religious or civil, unless she wanted to. I was wary of accepting a drink, fearing it may be drugged but she handed me one of the bottles which was sealed and unopened so I felt safe in drinking it. I twisted off the metal cap and poured myself a glass of what claimed to be French shiraz. Shortly after the liquid ran down my throat I felt a warm glow inside, but my head remained clear. I had to think fast. I cleared my throat and made my play.
"You've given me two options, either to join you or to, well, join Tamara, wherever she ends up. I propose a third option. You clearly want me out of the way because I'm too good a competitor. So why not pay me to retire, step down from the business and leave the way clear for you."
"Interesting", replied Zuleykha after a pause, "I knew we would reach an understanding, but that intrigues me. Please, come and eat, we will discuss this over dinner". She pressed a button on the wall and servants appeared carrying trays of food. We ate, and talked more about my proposal, which seemed to please her. Occasionally I caught a muffled cry from the hidden room where Tamara was being held, but we never spoke about her again.
*********
Three months later and here I am in my own luxury apartment with a view over the Arabian Gulf, a handsome young man fixing me a meal in the kitchen, enough money to last me a good while, and no regrets. So as you see, I'm out of the silk business, but I'm OK with that. Oh and there was one more condition - in my sound-proofed basement Shams awaits me in chains, until I decide it is time for her camel ride. Tomorrow I will do the same for Badra.
END