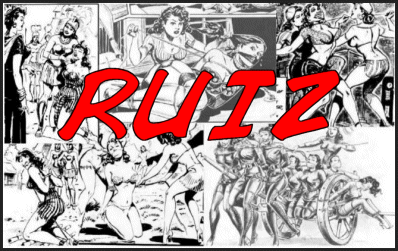 The Bondage Comics of Ruiz
---
NOTE: This was a regular feature of Jeb's Adventure Bound for a couple of years, as I added new chapters each week. When storage began to be an issue, I had to take it down.
I'm bringing the feature back, but on rather a smaller scale. I'll probably only be able to keep two or three stories available at a time.
This week, we're starting another of the Ruiz titles we didn't get around to before: Captives In Distress. Also available for your reading pleasure: Yolanda's Bizarre Experience and Lina Foils Female Western Bandits.
---
Introduction to the comics work of Ruiz:
While most of the people who know Irving Klaw's name associate it with bondage photography in the 1950's, he was also responsible for publishing a series of magazines featuring some of the best bondage artwork ever created.
Most of the artists who worked for Klaw's Nutrix publications (Stanton, Eneg, Jim, etc.) were pretty fetish-oriented: in addition to their (admittedly great) bondage work, their material tended to feature rubber, lingerie, male submissives and forced feminization, elaborate getups, shoe fetishes, and other "BDSM" aspects that rendered it less than wholly satisfying for the fan of "damsel in distress" storytelling.
There was one exception, though: the artist/writer known as Ruiz. While he was certainly no stranger to fetishes like lingerie or elaborate footgear, he seemed most interested in working his bondage situations into a story with the kinds of trappings that appeal to me: situations of conflict (kidnappings, robberies, royal intrigue, etc.), escapes/recaptures, period settings and costumes (though the actual fashions and hairstyles tended to be right out of the 50's, no matter when the story took place!)… oh, and lots of gloating bad girls to distress the heroines: Amazon warriors and cowgirls and lady pirates and much more.
And while most of the Nutrix publications' bondage stories were prose fiction pieces with accompanying illustrations, much of Ruiz' work was in the comic book/comic strip style, heightening the feeling of an old-fashioned adventure tale.
This section won't feature anything that Ruiz/Nutrix collectors haven't seen before, and probably in better resolution: for this site, they've only been scanned at 72 dpi, and reduced a bit in size, to optimize viewing on a computer screen and reduce download time, while still allowing the detail of the artist's work to come through. And at one page per week, it will take quite a while to get through even one story. In other words, I'm not trying to replace the (long-unavailable) print editions of these works, as I wouldn't have the right to do so even if I wanted to. This is intended for casual online reading.
I hope you get as big a kick out of these stories as I do: