Opportunity of a Lifetime
By
JerryS
Chapter 1 - Gina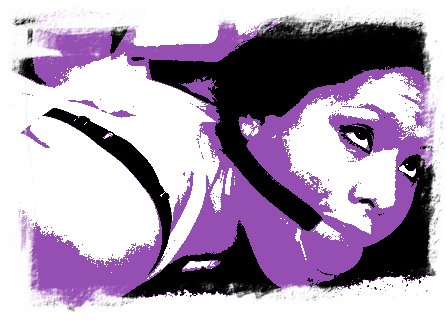 Bondage was not something in her playbook. Nor was it anything she had every even toyed with. She had never given it a second thought but now, though not under the best of circumstances, she was learning about it firsthand.
*Several Hours Earlier*
Gina Dominelli, a gorgeous green-eyed raven-haired beauty of Italian descent was about to hit the jackpot. Now nearly 32 years old, she realized that all her hard work was about to pay off big time.  She worked at her job as tirelessly and aggressively as she did on her own body. Countless hours at the gym had paid off with a magnificent body. Her five foot, five inch frame was complimented by just beyond shoulder length wavy black hair and a 36-23-25 figure. She had what many would call a perfect body with beautifully shaped legs, just the right amount of muscle tone and facial features you would see on a magazine cover. Besides the hypnotic eyes, flawless complexion and perfect lips that begged to be kissed, she also had those oh so sexy arched eyebrows that are so seductive to men.
So now, after four years as an associate realtor in one of Beverly Hills most prestigious real estate firms, she had latched onto a property listing that made her co-workers drool with envy. The Barron Estate, listed for a cool $25 Million in the most exclusive section of Beverly Hills was up for sale and thanks to the fact that the owner was a personal friend of her uncle as well as the obvious fact that the owner was completely taken by her looks, she had been awarded the exclusive listing. If she were to represent the buyer as well as the seller, she stood to earn a commission of $1.5 million.
Selling this property would provide her with instant notoriety and put her on the path to even greater rewards in the months and years to come. She could already taste it as she had been working with a potential buyer name Brad Cotton from New York. Brad had seen the house once already and seemed very interested in putting a deal together to buy the property, relocate from Manhattan and establish his company's new West Coast headquarters in West L.A. Apparently, he was the CEO of a large East Coast security firm that was looking to expand westward.
She had spent several hours at the property with Brad one day earlier and had taken extra care to make sure he saw every inch of the fabulous home as well as the grounds and guest house. She was certain he was going to at least make an offer.
The owners were away in Europe and would not return for a week but they were available by phone or teleconference in the event of an offer.
But tonight, she had plans that she was obliged to honor. Her boyfriend Matt was being honored by his company at a dinner event at the Beverly Wilshire Hotel.  And though they had not been getting along as of late, she felt obligated to support him on his special night. Gina had been contemplating breaking it off with Matt for some time. He had become much too needy for Gina and she was looking for the right time and place to tell him. Tonight would not be the night. That would be in bad taste given the circumstances.
Now on her way home from the office, she glanced at the clock on her dash and realized that she didn't have much time to get home, shower, dress and be ready for Matt to pick her up at 6:45.  She decided to call Matt and tell him to go ahead to the hotel on his own and she would meet him there by 7:30 or so. He was not happy with the change of plans but reluctantly agreed.
Gina arrived home around 6:30 and promptly removed her work clothes and headed for the shower.  Thirty minutes later, she had done her hair, put on her makeup and was ready to get dressed. She had given a lot of thought to what she would wear as she wanted to look "hot" but not trashy, sexy but not slutty. She had the perfect outfit laid out on the bed. She had decided on a leather sleeveless top and short fitted leather skirt. The skirt was not a mini but it was still a good four to five inches above her knees. Both the skirt and top were made of very soft lambskin leather and extremely sexy to the touch as well as the look. She would finish it off with a pair of black patent leather ankle strap Louboutin 5" heels with the red soles.
From her lingerie drawer, she found a lacy black balconet bra, a matching black thong and some sheer black pantyhose. She quickly put on the bra and panties and was in the process of putting on the pantyhose when she accidently caught her ring on one of the legs, snagging it badly and leaving a somewhat obvious hole right at the knee. She was perturbed by this but realized it was not the end of the world as she went back looking for another pair. But after a few minutes she realized she didn't have a spare and she was concerned about what to do.  It was cold and she didn't want to go barelegged and now she faced the prospect of heading to the local department store to buy a new pair.
It was then that she remembered a purchase she had made some weeks back that was still in the original box in her closet. It was two pair of vintage black nylon stockings and a black garter belt. She had been feeling frisky when she came upon it during an Internet search and on a whim, she decided to buy them for some future night when she wanted to be particularly sexy. 
Racing to the closet, she found the box and removed one pair of the nylons and garter belt from their wrappings.  She sat on the bed, lifted her skirt up to her waist and hooked the garter belt around her waist, taking care to place the straps under the thong. She was pleased to find that it sat on her hips perfectly, just as it was pictured on the packaging. She realized she was running late now and hastened her task as she grabbed one of the stockings, rolled it up with her fingers and pulled it up her leg.  These were 100% nylon stockings with no stretch so she had to make sure they were smoothed out carefully and without any wrinkles. She attached the garter snaps to the top of the stocking and then repeated the process with the other leg, taking care to smooth out any wrinkles.
They felt incredible on her legs…like warm polished marble and she was delighted by the look and feel of the classic retro look. She wondered to herself why more women didn't wear them because of the look, feel and sexiness of the fabric.
She hadn't noticed before but this particular brand had the reinforced heel and toe that would not work well with open toed or sling back shoes but she realized it would not be a problem since her shoes were neither.
Now standing and looking at herself in the mirror, she paused for a moment to admire the sexiness of the darker band at the top of the nylons then pulled her skirt down to cover the stocking tops, hoping that the welt of the nylons as it was called would not show because of the short skirt.  She was delighted to see that the skirt did indeed cover the tops though not by a large margin. She thought to herself that she would have to be careful when sitting so as not to put on a show for the stodgy old men at the dinner party. She could only imagine what they would think if they were to get a peek at the stocking tops and God forbid, the garter straps.
Quickly she slipped on the shoes with the sky-high heels, buckled the ankle straps and headed for the door.  It was already after 7:00 and she knew she would likely be late. It was at least 30 minutes away in the Friday evening traffic on the West side of LA.
Chapter 2 – The Property
In less than a minute, she was in her car headed for Sunset Blvd. when suddenly, her phone rang. Her first thought was "who the hell could this be"? A glance at the caller ID indicated that the caller was her client Brad.
Gina – "Hi Brad. What can I do for you"?
Brad – "Gina. Sorry to bother you after hours but I just found out I have to be back in New York by tomorrow morning and I am leaving tonight out of LAX about 10:00 PM."
Gina – "Okay."
Brad – "Anyway, I'm very close to making a decision on the Barron Estate but I just need  to check out a few more things at the property before I leave.  I know it's asking a lot of you but would it be possible to meet me there in about 15-20 minutes?  I promise I won't take more than a half hour of your time."
Gina – "Sure Brad.  I'm only about 10 minutes away now.  I'll meet you there. I'll make sure the gates are open so you can just drive straight onto the property".
Brad – "That would be great Gina. Thank you so much. I'll see you in a few."
Hanging up, Gina thought to herself that this was not going to make Matt very happy but there was too much at stake to not accommodate Brad's request. This was too important to her career as well as her pocketbook and she would do whatever was necessary to make this deal a reality.
A few seconds later, she called Matt's cell to let him know she'd be late but unfortunately, only got his voicemail so she left him a brief message without a lot of details other than her being delayed a little longer.
Making a U-turn at the first opportunity, she headed back towards the Barron Estate.  She would have no trouble being there in less than 10 minutes. She figured that worst-case scenario, she could be at the hotel by 8:15 – 8:30.
Catching a red light at Doheny, she leaned back in her seat and wondered what Brad specifically wanted to see.  As her mind was working on that thought, she glanced down to her legs now easily seen courtesy of the streetlights streaming in to the car. Her eyes widened as she now discovered that 2-3 inches of the tops of her nylons were clearly visible as her skirt had hiked considerably up her thighs, darn near to the point where the garter clasps attached to the tops of the stockings.  She had an "Oh My God" look on her face and felt herself blush at the sight. She hadn't given it a thought when she left her house because she was in such a rush and it was dark out but now in the light, she was somewhat shocked to see herself showing so much leg and stocking top to whoever might be looking.
The look was incredibly sexy, especially given the sheen of the light reflecting off the sheer stockings but she was more concerned with her modesty and decorum she would need at an elegant place like the Beverly Wilshire Hotel. "No time to worry about this" she thought, "I'll just have to be careful, spend most of my time standing rather than sitting and make the best of the situation".
In a few minutes she found herself at the gate of The Barron Estate. Gina was surprised to see that Brad was already there and sitting in his rented Mercedes. She reached into her purse, and activated the remote for the huge pair of gates and drove in, closely followed by Brad.
Parking in front of the main door on the huge circular driveway, Brad exited his vehicle and rushed over to open the door for Gina. Try as she might to exit in ladylike form, Gina couldn't help but show a generous amount of the tops of her nylons as she swung her legs out of the car. The smile on Brad's face was a dead giveaway that he hadn't missed it either but not wanting to embarrass her, he said nothing.
As they headed for the doors, she noticed that Brad was carrying his briefcase, something he had not done prior but she thought nothing of it. "Just part of his management style" she assumed.
Once inside, she headed for the security system panel located in the coat closet nearest the entry. Gina entered the alphanumeric code she had been given and the alarm was disabled.
Gina – "Now what would you like to see Brad?"
Brad – "I'm interested in the study and the smaller office area adjacent to the master bedroom".
Gina – "Okay, both are on the 2nd floor so let's just walk up."
Brad – "Lead the way".
Brad followed her up the stairs, following two steps behind her as they ascended. He couldn't help but peek at the nylons that were visible under her skirt from this vantage point. The short leather skirt did little to hide what was underneath and he was able to get a fleeting glimpse of the garter snaps attaching themselves to the rear of her stockings. Gina was somewhat cognizant that he might be getting an eyeful but at this point, she could do nothing about it and just did her best to ignore her embarrassment.  Worst-case scenario – it can't hurt the potential sale for him to want to see more of her so she wouldn't worry if he were looking.
First stop was the main office that also functioned as the study.  It was a large room that was at least 400 square feet. Brad went through what seemed to be a set of inspections of the office equipment, electronics and the like and taking notes on a ruled pad he had removed from his briefcase. He also had used a tape measure and taken some measurements of the room, desk area and closets.
Finishing up, they moved to the master bedroom which had another smaller office area set up in the manner of an anteroom but open to the bedroom portion and containing a large executive desk, leather executive chair and two guest chairs in front of the desk but angled toward each other. In the corner behind the desk was a small bar with several carafes of cognac, brandy, etc.
Brad duplicated his inspection and measurement exercises and after 10 minutes or so, he announced that he was finished with what he needed to find out.
Gina was standing on the other side of the room closer to the bed looking somewhat anxious but doing her best to be professional and not rush Brad into leaving for fear of offending his fastidious nature.
Brad – "Okay Gina, I'm finished with what I need to see and measure. I hope I didn't inconvenience you too much".
Gina – "Not at all.  I'm happy to accommodate you any way I can".
Brad – "Is that so?  In that case, let's have a sip of that brandy over there and celebrate the fact that you will be writing an offer for me on this place."
Gina – "That is awesome Brad.  Music to my ears. Do you want to pour?"
Brad – "My pleasure."
With that, he walked to the bar, retrieved two snifters and poured two fingers of  brandy into each of them. Walking back to the guest chairs, he sat in one and gestured for Gina to sit herself in the other.
Of course Gina's first thought was because she was facing him, whether she should set with her legs together or cross them. Together, he could likely look straight up her skirt but with them crossed, he would be treated to the tops of her stockings and the black garter straps as her skirt hiked up her leg. Either way, she was going to be revealing something so she sat with her legs together but tightly closed.
She was right if course because even as he tried to not be obvious, she could see him take subtle glances in the direction of her legs from time to time as they chatted. But she was now much more relaxed and less concerned about what she may be showing him. A few minutes later, she took it upon herself to rise and pour them each another drink. As she sat back down, she crossed her legs and noticed that even she could see the dark tops of the stockings so she could only imagine what Brad was seeing.
There were flirtations taking place at first but now, they had become something more. They were giving each other "that look" that said "let's do this".
Gina was now less than enthused about pleasing Matt and his dinner party and started fantasizing about climbing into the nearby bed with Brad. She was getting close to making a move in that direction but Brad, sensing the way things were going, took it upon himself to make the first move.
Rising from his chair, he approached Gina, bent over and gave her a passionate kiss while simultaneously sticking his hand down her leather top cupping and fondling her breast through the lacy black bra. Gina offered no resistance and Brad then let his hands now caress her legs under the skirt. He was growing hard as he ran his fingers up and down the stockinged legs and toyed with the garter straps.
The breathing was becoming more labored at this point and Brad now raised Gina to her feet while kissing her neck as she tottered on the sky-high heels. Now leading her to the edge of the bed, he unbuttoned the leather top, removed it and tossed it aside and unzipped the tiny leather skirt allowing it to drop and leaving it in heap around her ankles.
Brad bent her backwards so that she was now lying on her back on the bed, her legs dangling over the edge, her feet a few inches from the floor.  He stepped back to get a better look at her in what surely was her sexiest and most seductive lingerie. She lay there waiting for him in her black bra, thong, garter belt and stockings and of course the sexy patent leather shoes. Her chest was heaving and Brad was likewise ready for what was inevitably next.
Laying on the bed as she was, she was in perfect position for him to pleasure her orally so without further ado, he fell to his knees, pulled the tiny thong down her legs leaving it dangling around one ankle and proceeded to drive her to orgasm courtesy of his well trained tongue. Gina came not once, but twice in the span of less than five minutes.
Determined to return the favor, it was Gina who now dropped to her knees and showed Brad that she was no amateur in the blowjob department. She was incredible in her technique and Brad came hard and quick in her mouth.
Now after four or five minutes or recovery and laying side by side on the bed, they decided to have sex the conventional way. They kissed and fondled each other, as he let his hands probe every inch of her legs, boobs and butt. He toyed with the idea of removing her remaining underwear but decided that he loved the look she was displaying and thought better of it.  He was once again hard in an instant and wasted no time entering her.  The feel of her nylon covered legs rubbing up and down on his back and legs was a sensation he hadn't felt many times but knew it was something he would likely want again.  Her large lace covered breasts moving back and forth across his chest was all he could stand and within a few moments, he came inside her with an explosion he had not experienced very often.
Chapter 3 - The Betrayal
Now, they were once again completely spent and laying face up on the bed in recovery mode. They chatted back and forth for a few more minutes before Brad sat up and moved to the end of the bed. He paused for a few seconds to take hold of her sexy little black thong that was still dangling from one of her legs, raised her other foot to thread it through the other opening of the thong and pulled it  back up her legs, gently positioning it in it's proper place. He let his fingers slightly brush over her pussy lips as he got up and felt her wince slightly as he touched her still ultra-sensitive private parts.
Gina remained prone on her back on the bed and was a sight to see in her sensuous black underwear, her chest still heaving and her breasts seemingly attempting to escape from the bra with every breath. Still wearing her garter belt, nylons and those oh so sexy shoes, she was a vision of every possible sexy thing in a woman.
But things were about to change quickly for Gina.
Brad had retrieved his briefcase and was returning with it to the bed. Sitting next to Gina, he opened it with the top partially blocking Gina's view of what was inside.
Brad – "I'm afraid I have a confession to make".
Gina – (looking puzzled) "What are you saying?"
Brad – "Well, I'm sorry to say I will not be making an offer on this property".
Gina – "But why?  I don't understand Brad.  What changed your mind?"
Brad – "I didn't change my mind. I never intended to buy this house or any other for that matter. My apologies for deceiving you Gina but you see, I'm not really Brad Cotton. That's just the name I'm using from the actual Brad Cotton.  In fact, we resemble each other quite a bit but that's neither here nor there.  The fact is I'm a thief!  And not just a thief, a rather accomplished one at that and I specialize in high-end jewelry. And the bottom line here is that I came here to L.A. specifically to get my hands on a few pieces of jewelry that are in the safe in Mr. Barron's study."
Gina laid there on the bed with her mouth half open in disbelief and her eyes starting to tear up. She was beginning to realize that she had been duped. After a few seconds of total silence, Gina was now attempting to sit up and get away from "Brad" but he was too quick and reaching into his briefcase, he pulled out a gun and pointed it at Gina.
Brad – "No no young lady!  I'm afraid you're not going anywhere.  I have plans to carry out and I can't have you interfering with them".  And with that, he once again reached into his briefcase and came up with several coils of white cotton rope
Gina - "What are you going to do with that?
Brad – "I'm going to have to tie you up.  I have work to do and I can't have you running around this place or trying to leave while I'm busy in the other room. I need to tie you up good so I'm not worrying about what you're doing.  But don't worry, I'm not going to hurt you or kill you.  I'm not a murderer, just a thief."
Gina – "But you don't half to tie me up…."
Brad – "Sorry, but yes I do. Now I don't want to hurt you and I won't unless you fight me on this.  You won't be in pain, just uncomfortable for a while so be a good girl, turn over on your tummy and cross your hands behind your back."
Reluctantly, Gina complied and rolled over, tears now streaming down her face as the reality of the situation became more and more obvious.
Taking one of the coils of rope, Brad straddled her and quickly tied her wrists together finishing it off with two vertical cinch wraps and a tight knot. The binding was tight but not so much as to cause her much pain. Gina glanced over her shoulder and saw that there was about 10 feet of this piece of rope still dangling from her wrist bonds and wondered why he had left it that way.
It soon became obvious as he took hold of it, used it to pull her hands up in the small of her back and then wrapped the rope tightly around her waist, not once but twice before looping it around her wrists again.  Then, he pulled the remaining five feet or so down between he legs and rolled her over on her back. Now, he carefully positioned the rope between the lips of her pussy, pulled it up and looped it through the rope around her waist, then down back through her legs again and tied it off to her bound wrists once again. 
The rope was tight and uncomfortable for Gina but it was rubbing directly against her clit and was stimulating her still sensitive pussy with even the slightest movement of her hands.  Brad rolled her on her back once again and checked his work.  The white ropes stood out against the black panties being pulled deep into her crack. He admired his handiwork.
Brad – "You see, you're going to be tied up for a while so I'm giving you this plaything – a crotch rope so you can at least have a little fun with it and stimulate yourself by just pulling up and down on your wrist ropes".
Gina – "But I don't want to…..".
Brad – (interrupting) "But you definitely will"
Her hands secured behind her back and the crotch rope firmly in place, Brad now retrieved another shorter length of rope and tied her ankles together with three wraps and two cinch wraps and a knot tied off in the front where she couldn't reach it.
Gina was sobbing and somewhat frantic at this point as she realized she was totally at his mercy and tightly tied with no means of escape. She writhed back and forth in a futile attempt to find some way of escaping her bonds but only succeeded in stimulating herself because of the crotch rope rubbing her clit with each movement of her hands.
Brad once again reached into his briefcase and brought out yet another length of rope as well as something else she didn't recognize. She would soon enough however when she got a good look at what was obviously a red ball gag.  She protested by shaking her head back and forth exclaiming "no, no" but Brad ignored her pleas and pushed the ball into her mouth until it popped in behind her teeth. He then buckled it behind her neck and pulled it tight.
Gina had never had a gag of any kind in her mouth and though this one was made of soft rubber, it still forced her mouth open wide and was very effective in muffling any noise she might make.  MMMPPPHH was the only sound she was able to make with the ball crammed behind her teeth and she sensed there was no way to dislodge it, try as she might.
She looked up at Brad with a "why" look on her face and he smiled at her with a look that said "deal with it because you have no choice".
Thus tied and gagged, Brad turned to her and said "By the way, that's not a real gun. Just a prop but obviously it got the job done, right?"  MMMPPPH came from the frustrated Gina as she felt so violated in so many ways.  Lies, deception, sex under misleading circumstances, gagged and not being able to speak and tightly tied up and at his mercy.
Brad turned and walked toward the door heading for the Study but as he turned back to look at Gina, he saw that she was wriggling her way off the bed – her legs already over the edge looking for the floor.
Seeing this, he returned to her, stopped at the foot of the bed and said "No, no Gina.  I don't think so.  Seeing that you are trying to get away, I can see I'll have to tie you up some more to make sure you stay put and don't hurt yourself falling off the bed."
Once again returning to his briefcase, he took out even more lengths of rope. The longest piece he wrapped around her upper torso, twice above and twice below her breasts and finished it off by tying it around her upper arms, pulling them close together behind her back.  The result pushed her breasts out even more pronounced and with the help of the black lacy push up bra, they were a fantastic sight and he felt himself getting yet again.
Next came more leg ties. An eight-foot length of rope was tied around her upper legs  around the darker portion of her nylons. Again, he wrapped it three times, pulling them tight and then finished with two cinch ties in the front. The contrast between the dark nylons and black garter straps holding them up and the vivid white rope was quite a difference.
Her bondage was nearly complete at this point but one last tie was necessary.
Reaching into his pocket, he produced a small penknife and cut a four-foot length of rope from the final coil.  Gina eyed this quizzically as he turned her on her side.  Brad then tied one end of this rope as an additional cinch to the ropes around her ankles and pulled her feet up towards her butt so that the heels of her shoes were nearly touching her hands and secured it to the ropes around her wrists.
Brad – "Sorry but I had to hogtie you to make sure you stay put on the bed and don't try that escape thing again."
Gina – "MMMPPHH. MMMPPPH."
Brad – "Now you stay put and I'll be back when I'm finished. I'll say again, you'll be uncomfortable for a while but you won't be hurt.  That's not my M.O."
As Brad left, Gina again made a futile attempt to free herself but the ropes held fast.  He definitely knew how to tie up a girl and she accepted that she was going nowhere until he decided he was going to let it happen. She rolled over on her side to ease the pull of the hogtie but only managed to make the rope between her legs dig deeper into her slit and she felt herself starting something she didn't' t really want to finish.  Any movement whatsoever was going to make that damn crotch rope perform its intended purpose and there was nothing she could do about it. It was nearly impossible to lie there motionless and her slightest movements made her pussy more and more stimulated. Ultimately, she surrendered to the inevitable and experienced a violent orgasm, courtesy of the rope.
The ball in her mouth of course muffled her cries of ecstasy as she bit down hard on it while undecipherable moan sounds came from her behind the gag. The length of this orgasm was even longer than the ones she experienced with Brad only minutes earlier and though she felt guilty for allowing herself to cum under these circumstances, she nonetheless accepted the incredible feeling it left her with.
She thought to herself that bondage under other than these types of circumstances might be something she could get into but she did her best to dispel those thoughts and accept it for what it was. Right now, she just had to concentrate on moving as little as possible so as to not trigger another orgasm.
Meanwhile, Brad was hard at work picking the electronic safe. He fancied himself as a real life Luther Whitney, the character played by Clint Eastwood in the movie Absolute Power.  In that movie, Luther made a living taking on high-end alarm systems and cracking even the most foolproof safe.  Brad looked at himself as the real deal in his chosen profession.
He had taken Gina's phone and found that she had made a note to herself on how to disarm the system. From there it was easy for him to shunt that station and bypass the alarm being triggered on the safe. He was something of an electronics wizard and had some experience with this particular type of safe. As a result, he was able to bypass the software that recorded openings and closings of the safe door as well as shunting the notifications feature on the server. The result being that there would be no record of the alarm on the safe door being disabled and no record of the door being opened or closed back up. 
Returning to the bedroom, Brad needed to check on Gina to make sure she was still in place.  He went to her, checked a few of the ropes to make sure she was still tied as he left her. He paused for a moment to look at her tied and gagged in her sexiest underwear and thought to himself how under different circumstances, he would like to see more of her and over an extended period of time.  He was into bondage and appreciated this beauty in black undies with stockings and garters tied up and at his mercy.
But seeing her again was not in the plan so he pulled a small box from his briefcase and headed back to the Study. He noticed her looking at him with a confused look so he stopped and explained that he had intimate knowledge and photographs of the pieces he was stealing and had seen them up close at various auctions and catalogs where they had been bought. He had an accomplice who could duplicate them with non-precious stones and gold plating that would fool anyone not examining it more judiciously. Therefore, when the owners returned and checked on their items, they would likely give them only a cursory look to make sure they were still there and not give it a second thought. He would remove the real ones from their boxes and replace them with the phonies, lock up the safe and no one would be any wiser about what happened until sometime in the future if they ever decided to sell them or have them appraised.
It didn't take him long to finish and in a few minutes, he was back again alongside the bed looking at Gina. He reached down between her legs, pulling up the crotch rope and let his fingers do the walking in and around her entire vaginal area. Gina winced as he did so and fought the urges to let her body respond again. Brad then let his hands run up and down her nylon covered legs and again play with the straps of her garter belt. He cupped both her breasts through the sexy bra and gave them a slight squeeze. This type of bra not only pushed her breasts up but also closer together for maximum effect. He had occasions in the past to be with women who wore these things but none that looked so stunning, inviting and just plain smoking hot wearing them. He wanted more of her and he imagined being able to tie her up again dressed as she was but he knew it would not be possible.
Now nearly finished, he sat down to explain to her the final steps of his plan.  Gina was apprehensive about him sitting next to her and the intimate touches he was still giving her in various parts of her body but tied as she was, she was helpless to resist.
Brad – "So now I'm thinking you want to know how I'm going to get away with this, right?"
Gina nodded up and down and gave a mumbled MHHHEEPPH indicating yes.
Brad then explained the jewelry swap and how it would be a long time before it would be discovered unless she were to spill the beans so to speak. She shook her head back and forth trying to indicate that she would not say a thing but he knew he needed more than just her word on this.  He needed leverage and that was part of his plan.
So with one hand on her leg toying with the rope around her upper legs, he explained what would happen next.
Brad – "So now I must be leaving but I can't untie you now because you will likely call the cops and you need time to think about what I'm about to tell you.  So I will leave you tied and gagged here while I make my escape". 
Her eyes widened and she started with the unintelligible mumble sounds through the gag in obvious disagreement with that plan. She was also again twisting and contorting, trying to gain freedom from the tight ropes.
Brad – "Not to worry Gina, you'll be fine in about an hour or two at the most.  Like I said, uncomfortable but not in danger and you will not be harmed.  I'll be taking your phone with me but I'll return it to you in a week or so by mail or UPS.  I'll need it because as soon as I am boarding my plane at the airport, I will text your boyfriend Matt telling him where you are and giving him a small idea of your situation along with a picture of you in your current predicament." 
Gina winced hearing this but she continued to listen.
"You see, if you tell the cops or anyone else about this, the owners of this house will want to know what you were doing here in the bedroom, dressed or undressed as you are, drinking their brandy and who knows what else and when they discover the jewels are fake, who do you think will get the finger pointed at them? Lots of questions here: the alarm, the safe, the booze, the sexy outfit, etc.  And even if they believe you, they will think you were so careless to let me in that you will lose the listing and the commission as well. So you see that it's in your best interest to keep quiet and convince your boyfriend to do the same so that these questions never come up.  At some point down the road when the jewelry fakes are discovered, no one will know when or how it happened and we're both in the clear."
"So now, I'm going to take a few pictures of you tied up and gagged on the bed so I can send them to Matt and have him come rescue you. You might have some explaining to do but I'm sure you can convince him that you were forced to strip and that whatever happened here was against your will. You'd also better make sure you convince him not to blow the whistle on you or me for that matter.  You have a good career ahead of you and I'm sure you will sell this house at some point so don't do anything stupid and you'll be fine.  Got it? Don't fret Gina, unless he decides not to check his text messages, he'll be here for you on no more than 90 minutes.  In the meantime, make good use of that rope between your legs.  Trust me, it will make the time fly by faster."
Gina – Mummmpphh (bobbing her head up and down).
Chapter 4 – The Departure
Brad packs up his suitcase and prepares to leave but before doing so, he takes four pictures using her phone of the bound and gagged Gina from different angles. Gina is blushing with embarrassment at the prospect of Matt seeing her dressed this way and tied up and gagged on top of the whole thing.
He pockets her phone and moves close to her for one last moment. Bending down, he re-checks all the knots in the ropes as well as the ball gag and decides she's not going anywhere. He leans over, sticks his tongue in her ear, slides his hands up and down her legs to feel the nylons once more and gives her left breast a squeeze. He pauses for a second but instead of walking out the door, he sits himself down next to her on the bed but says nothing. His eyes are taking in every inch of her tied body and he once again finds himself getting hard at the sight of this incredibly beautiful woman tied next to him.
Brad – "You know, you may be thinking that I went overboard tying you up so thoroughly and that it was more than what was necessary to keep you quiet and still and you may be right.  The truth is I have this thing about tying up women that just gets my juices flowing. I've had to do something similar to what I've done to you in the past and I have had many girlfriends who I've tied up over the years.
It kind of got started when I was a teenager. My dad passed away in his 40's and I had helped clean out his things some time later. I found some boxes in the garage that were filled with those old time detective magazines from the 50's and 60's. You're too young to have ever seen any of the I'm sure but every one of them had the same theme and most shared the same type of cover picturing a hot woman, scantily dressed, tied up and gagged. I learned that it's called the damsel in distress scenario.  I loved scanning through them. In fact, almost every cover showed the women wearing stockings and garters like you and I have to admit that it's a complete turn-on for me. Now I admit I had no idea you'd be dressed like this tonight and I had every intention of tying you up while I made my getaway but when I saw what you were wearing, I felt I had hit the jackpot. I apologize if you feel used but a guy has to make a living somehow, right? Besides, you will no doubt end up being very successful somewhere down the line and so will I. So it's bye for now. Maybe we'll meet again but I doubt it. I can't say I wouldn't welcome it though. You are one hot woman".
Brad heads for the door.  There are lights on the ceiling above the bed so on his way out Brad flicks the wall switch to turn them on. Taking one last look at Gina, he admires how the light reflects off her nylon stockings highlighting them and enhancing the contrast between the black stockings and the white ropes holding her legs fast.
Gina grunted through her gag and rolled over on her side and watched him vanish through the doorway. A few seconds later she heard the front door close and she relaxed as best she could while waiting for Matt to receive the text and come rescue her. The ropes felt tighter than before, no doubt because of her struggling as well as her muscles cramping from being tied in the same position for over an hour. She thought to herself that they might as well be made of steel rather than rope for their ability to hold her helpless. There was no give anywhere and all the knots were tied well out of the reach of her hands anchored in her lower back. She had no choice but to just lie there and wait.
The large house had it's share of creaking sounds that are common with most large structures and every so often, she would hear one and her heart rate would inevitably jump. She was deathly afraid that someone might gain entry with the front door being unlocked, discover her bound and gagged in her most seductive lingerie and do who knows what to her. She was well aware that she would be unable to do anything to stop them. She watched the large clock on the wall tick away the seconds ever so slowly and prayed she'd be safe until Matt arrived.
Twenty minutes had passed since Brad had left and Gina was getting anxious as well as extremely uncomfortable. She had relaxed emotionally somewhat and was now thinking about ways to make the time go faster. She was laying on her left side and decide to roll over to her right and as she did, the ropes between her legs tightened against her clit and sent a mild electric-like shock through her pelvic area.  It was not a painful shock but rather, the beginning of an orgasm.
As upset and betrayed as she felt, the feeling reminded her that she was able to stimulate herself with the rope and take her mind off her predicament for a short period of time.   Thus inspired, she grabbed hold of the ropes trailing from her wrists disappearing between her legs and began to gently pull on them back and forth while they worked their magic on her now super-sensitive clit. As she became more and more aroused, beads of sweat formed on her forehead as well as on her breasts. She glanced at them jutting out from her chest, courtesy of the ropes and the pushup bra and actually took pleasure in realizing that this had to be a fantastically erotic sight, especially with the stark contrast between the tight white ropes and the black bra surrounding her luscious breasts heaving with each breath.
The ropes between her legs almost disappeared as they buried themselves deeper and deeper into her slit, taking the tiny black thong with them but still she continued. There was pain but it was overshadowed by the erotic stimulation and the orgasm she could feel getting closer and closer.
Gina was trying to scissor her legs to speed up the process but the ropes on her ankles and thighs allowed very little movement. The only real result was the swishing sound of her nylon-covered legs rubbing against each other in that uber-sexy way that women know and men can detect from across a room.
Still she continued tugging back and forth on the ropes until finally, she exploded into an uncontrollable orgasm that caused every muscle in her body to contract simultaneously.  She cried out as loud as she could but as before, the ball in her mouth stifled most of the sound of her screams that lasted close to 45 seconds. Never had she experienced such an incredible orgasm and though it pleased her completely, it also scared her to know that she was able to experience such a feat while being held captive, tied up and gagged in a strange place.
She slumped on to her side and still breathing hard with drool leaking out of the corners of her mouth from the ball gag, and she was finally able to relax her body and wait to recapture her breath as well as her sanity.
By this time, Brad has reached LAX.  He has no intention of boarding a flight and he has no ticket. That was never part of the plan.  Knowing that the location of a cellphone can be tracked using the Find my IPhone app, he has gone there for the sole purpose of texting Matt so that if Gina does alert the police, the trail will take them to the airport and nowhere else because he will turn off Gina's phone as soon as he has sent his text.
There is a tremendous amount of traffic so he decides to send the text (which he had transcribed before leaving the house but not sent) while driving around the huge circle of the airport departure level.  Within seconds, the text is sent as follows:
"Matt: This is being sent to you from Gina's phone on her behalf since she is temporarily unable to do it herself. As you can see by the attached photos, she is in a bit of a predicament. But fear not, you are in control of her destiny. She has not been hurt nor has she been assaulted and no harm will come to her if you follow the directions. First, do not call the police or any other person!  She is in the master bedroom on the 2nd floor of her listing at 9333 Canon Drive in Beverly Hills.  The gate is open and the front door is unlocked. Once you have arrived, listen to what she has to say before deciding to involve the authorities.
This is very important to her future and career so don't do anything stupid and heed these words carefully. DO NOT CALL THE POLICE. You would regret it!
Now go quickly and rescue your woman. She is quite uncomfortable as you can see"
The photos he attached were quite explicit and taken at various angles so as to not leave any room for doubt that she was in trouble.  He even took care to send a close up of the crotch rope bisecting her pussy lips.
"That should do the trick." he thought to himself.
Brad made sure the text went through and then immediately shut the phone down, removed the SIM card and headed out the exit of the airport.
Next stop, Ontario airport where he had rented the car under an assumed name and phony credit card and drivers license. From there, he would take a taxi to Riverside, then call Uber for a ride to Palm Springs airport and take a flight from there to his home base of Reno, NV. He had done something similar before so he was secure in the thought that he would not be found even if Gina tells the cops.
************************************************************************************
****Note from the author****
There are two alternate endings to this story. Chapter 5 – The Finale is my original ending but Chapter 6 – Unintended Consequences gives a different ending that some might find more to their liking.
Chapter 5 – The Finale
Meanwhile, Matt was on his way to the house to rescue the beleaguered Gina. The hotel was only 15 minutes from Barron House and he came tearing through the gate at breakneck speed. Rushing through the door he saw alight in a room on the second floor so he flew up the stairs and found Gina exactly as she had been left by Brad an hour or so earlier.
Gina was sobbing and making strange noises through her gag as he approached and before untying her, he embraced her in his arms for a minute or two.  He was very upset, bewildered and mad at the same time. She would have some explaining to do as he took closer notice of what she was wearing. He had never seen her dressed this way and his mind understandably wandered from one thought to another.
Eventually, he untied her and rubbed her wrists, arms and legs where the ropes had left deep furrows.  He would never admit it to her but the sight of the gorgeous woman tied up, gagged and crotch roped in the sexiest lingerie he had ever seen was a turn on to him and he had to stifle the arousal he felt.
Gina retrieved her top and tiny leather skirt and put them back on while she told the whole story to Matt, leaving out the part of the sex and blowjobs. She also told him the reason for not being able to contact the authorities.
Although he was adamant about calling the police, he eventually acquiesced to her and agreed that it was best that they keep this to themselves and cross their fingers that the jewelry switch went undetected for a long time.
Several months would pass and Gina would eventually sell the Barron Estate for close to asking price.  The jewelry issue never came up and she felt safe knowing that she had dodged a bullet. It also helped ease the pain knowing she had pocketed a commission in seven figures and was making plans to go out on her own with her own brokerage business.
Things were looking good for Gina and she had also developed a newfound affinity for the occasional bondage adventure.  She had a new love in her life that was more like what she thought Brad was before learning the truth the hard way.  Matt was no longer in the equation as she had broken things off with him about a month after the whole Brad Cotton affair. No one would ever know about what happened that night as long as everyone kept his or her mouths shut. She knew Matt would never say anything because he could be implicated as a co-conspirator if she wanted to paint him in that light.
As for Brad, she never saw him again. Nor did she ever learn his real name. She did however receive a gift from him when she sold Barron Estate. One day while sitting in her office, a florist delivered three dozen long stem red roses to her with a card attached saying "Congratulations on the sale of the Barron Estate" All's well that ends well. Looks like you "roped in" the big one. Enjoy.  Brad"
He had obviously been keeping tabs on her from wherever he was.
Gina didn't know if she should be happy or mad but a broad grin came across her face that left her co-workers wondering.
Chapter 6 – Unintended Consequences (Alternate Ending)
Unfortunately for Gina, Brad's text to Matt had gone unseen for the moment. Matt was pissed about Gina not making it to the dinner and had put his phone on mute and didn't hear the text come through. Gina couldn't know this of course but it meant that she would be spending more time bound and gagged than she had anticipated.
Just after Matt hade made his exit from the house, two lowlifes named Eddie and Oscar who had been staking out the houses in the upscale neighborhood drove by Barron House for the second time and had noticed that the gates were still open as they had been on their first pass by the house. They were driving a beat up old Buick Electra and had a back seat full of burglar tools they were anxious to put to good use.
These were two career criminals who had experienced only moderate success in their chosen profession – residential burglaries. Most of the homes on Canon Drive had gates that were always closed and enhanced security systems so this had caught their collective eyes as a possibility.
These two were not rocket scientists so seeing the open gates, they decided to check it out further. Turning onto the property they slowly made their way to the front of the house where they spied Gina's car parked. They noticed the window sticker with the brokerage name on it indicating that it was owned by a realtor so they reasoned that at worst, there was a real estate person inside who they could likely overpower if it came to that. Also, because the house was so large, it's possible someone could be inside and still not know if they had gained entrance to it.
They decided to take a chance and parked the Buick just past Gina's car on the circular driveway.  Quietly making their way to the front door, they could see inside that there were no lights on except for one fairly dim light coming from the second floor.
Opening the door, they were immediately taken aback by the "ding ding" sound from the alarm system indicating a door or window had been opened. This was rather routine for all modern alarm systems so they froze as they stepped inside for a few moments, waiting to see if someone would materialize to check on why the entrance alert had sounded.
Upstairs, Gina had heard the sound as well and thinking it might be Matt, immediately tried to call out but as expected, the only sounds she was able to make was the familiar MMMMPPPPH because of the gag in her mouth. But the distance from the bedroom holding Gina was too far from the front door for the burglars to hear her so they continued to wait and see if they had company.
After 3 or 4 minutes waiting in the foyer, they decided the alert had not been heard and closed the door and made there way further into the house. The downstairs being completely dark with no lights on, they made their way up the stairs to the source of the light coming from the bedroom.
As they approached the bedroom, they split up , Eddie went a little further down the hall while Oscar stuck his neck into the bedroom almost crapped his pants upon seeing Gina lying on the bad, tied up from head to toe and ball gagged. His eyes because the size of silver dollars at the sight before him.
Without thinking, He yelled out "Eddie, come in here. It's Christmas in February and they left us a something in here and it's gift wrapped!" Gina quickly jerked her head towards the door and in absolute horror, began to scream into her gag seeing Oscar standing in the doorway. In a few seconds, Eddie entered the room as well and stood there dumfounded at the sight of a gorgeous woman lying on the bed in the most provocative underwear, bound hand and foot and hogtied to boot.
Neither man could believe his eyes and collectively thought they had died and went to heaven.  Eddie then says "Lord above, we are going to have us some fun tonight".
Both men approached the bed and watched Gina reflexively try and pull back from them without much success. The tight ropes and particularly the hogtie kept her from being able to move much.
Eddie – "Look at that man, they even tied up her pussy! I'll bet she's really feeling it right now, right?
Oscar – "Damn right man and will you look at what she's wearing. It's almost like someone knew we wuz comin' and wanted to leave us a surprise." While he spoke, he gave the rope between her legs a bit of a tug and laughed when Gina flinched as a result. 
Now they were both running their hands all over her body, "checking her out" as they say, snapping the garter straps against her legs, poking and prodding her breasts that were straining to escape the bra and ropes around her chest area.
Gina was beside herself with anxiety at this point and wondering what they were about to do with her. Nothing good was going to come of this she concluded and she was about to start hyperventilating any second.
Oscar remarked that the gag in her mouth was a nice touch because it kept her somewhat quiet and though they had ideas of removing it temporarily for reasons that were obvious, they kept it in her mouth for the time being.
Eddie – "Someone left her like this for a reason and they'll probably comin' back so why don't we forget about the stash and just haul her ass down to the car and take her somewhere where we can have some fun with her. We could take turns all night long dude."
Oscar – "Great idea bro. We can throw her in the trunk and take her back to the house. Might even keep her for a few days.
With that, Oscar went to the bed to get Gina. He put one arm under her thighs and the other from behind her back so that the palm of his hand was cupping her breast. He was feeling the nylons with one hand and her boob with the other. Lifting her up, Gina screamed through the gag as every single rope seemed to double in tightness around her arms, legs and pussy. 
He almost stumbled as he started to carry her because the hogtie was making her weight shift in such a way that it was difficult to balance her in his arms.
Oscar – "I think I need to untie that rope from her hands to her legs and carry her over my shoulder".
Eddie – "Yeah, but hurry the fuck up.
He unceremoniously dropped her back on the bed and she again felt the pain of the ropes tighten as she hit with a thud. Quickly he untied the hogtie rope, and put it in his pocket.  Gina gave out another muffled grunt as he roughly leaned over and picked her up around the waist and deposited her over one shoulder.
As they exited the bedroom, Oscar mentioned that it would be easier to take the elevator than carrying her down the stairs so down the hall they went. Once down to the first floor, they hurriedly headed for the front door and out to the Buick.
By now, Gina was furiously twisting and bucking her captured and tied body, trying her best to escape Oscar's grasp. She knew that if they got her in the trunk of the car, her chances of survival would go down to practically nothing. Tears were running down her face as she was realizing that she was likely facing several brutal rapes and captivity for who knows how long, maybe forever.  Oscar was letting his hands roam all over her body the entire way to the car and he was definitely enjoying the feel of her nylon covered legs.  She was trying to kick him with the pointed heels of her shoes but he was easily able to thwart off her efforts.
Now at the car, Eddie opened the trunk. It was very large but full of trash and smelled awful. There was a blanket on the floor but it was dirty and soiled and she was soon roughly deposited on to it with a thud. Oscar then took the short rope out of his pocket and began to hogtie her again as she had been when they found her.
Oscar – " We can't have her rolling around back here and trying to reach the latch so we might as well put her back like she was when she was left up there, right?"
Eddie – "Yup.  Good idea.  Make sure you tie her real tight."
Gina winced as Oscar pulled her ankles back up to her wrist bonds and gave it a hard yank and tied a double knot around her wrists to keep her secured. She was now bent like a bow facing the back seat and unable to even roll over because of the height of the trunk. She would be stuck in this position for whatever time it took to get to wherever they were taking her and now, the ropes were so incredibly tight and she was at the mercy of to men who had her tied, gagged and about to be transported to some frightening place wearing only her most revealing lingerie.  Gina couldn't help but think her life was about to come to an early end because these guys were likely capable of anything.
Eddie and Oscar are now backing the car in order to head out the driveway.  They are in a hurry so Eddie guns it towards the gate at the exact moment when a car comes barreling in through the gate headed for the house.
Eddie doesn't see him in time to avoid a crash so he cranks it hard to the right and hits a large tree head on.  The impact throws Gina deeper into the trunk as she hits chest first into the rear of the back seat. Simultaneously, both Eddie and Oscar are thrown forward, Eddie hitting his head on the steering wheel while Oscar's head hits the passenger side windshield.  Both are knocked unconscious.
Out of the other car runs Matt who has no idea who these guys are or what relation their presence here relates to Gina's situation. Luckily for Gina, the impact has made the trunk lid pop open and as Matt gets closer, he sees Gina inside tied up like a Christmas turkey in the trunk.  He's mentally trying to process this whole mess but is perplexed by what has just transpired.
Leaving Gina for an instant, he leans into the car and sees the two unconscious guys who may be dead for that matter and figures it is better to attend to Gina first and then figure this out later.
Matt returns to the back of the car and pulls Gina back towards the rear of the open trunk.  He sees that she is shaken up but apparently okay other than in severe distress.  With some difficulty, he rolls her over to face him so he can lift her out of the trunk. Gina again emits a loud mumbled scream as the crotch rope again digs further into her now raw pussy. Matt has no idea what the scream is about and carries her towards the porch intending to first untie and then comfort her. He lays her down on a patch of grass and Gina is MMMPPPHing, bobbing her head up and down and with her eyes focusing toward her crotch area and her head motions, trying to get Matt to understand that she wants him to untie the rope between her legs and take the gag out of her mouth. He gets the message and he bends over to untie the rope that is threatening to split her in two.
Suddenly, the engine of the Buick revs up and he looks up to see it backing towards them and moving fast. He thinks they are going to run him over but to his surprise, they stop, put the car in drive and hightail it out of the driveway and away into the night with smoke coming from under the damaged hood.
Seeing this, Matt immediately reaches for his cellphone and begins to dial 9-1-1 but as Gina, laying on her side in the grass sees him dialing, she starts frantically shaking her head left and right and screaming through the gag to tell him NO! He sees her but is having difficulty figuring out why she doesn't want her to call. Still shaking her head, Gina is able to halfway enunciate DHOOONNN HAALLLL! He gets what she's trying to say and hangs up before the call connects reasoning there must be an explanation to all this and he wants to find out what it is and QUICK!
Gina is now again shaking her head and thrusting out her chin towards him to let him know she wants him to remove the gag.  He reaches down behind her neck and unbuckles the strap and pulls it out as it makes a dull "pop" sound.
Gina – "Oh thank God. I didn't think I could stand it another second. Now untie this FUCKING ROPE between my legs!"
Matt had been somewhat oblivious to her predicament for the moment but does as he's instructed. He is amazed at the idea of a rope between her legs and actually kind of admires the intricacy of the rope positioning and what the resulting feeling it must give a woman nestled so tightly between her pussy lips. She winces reflexively as he pulls the rope from between her legs as it gives her one last twinge while rubbing against her clit.
Gina – "Oh God, take me inside Matt.  I have to tell you what happened and why you can't call the cops".
Lifting her up off the ground, he carries the still tied up Gina into the foyer of the house to a nearby sofa and begins the process of untying the numerous ropes encircling her body.
Matt – "It's hard for me to imagine what this is all about Gina. This had better be good".
As he continues to untie her, he looks her over again and again and his mind has trouble comprehending why she is dressed the way she is and how she ended up in this predicament.
During the next 30 minutes, Gina proceeds to lay out the entire scenario for Matt and explaining that she dressed this way for him, the betrayal and scam perpetrated by Brad, the elaborate scheme of the jewelry switch and the unexpected role played by the two idiots who were trying to kidnap and rape her.
He was somewhat skeptical about some parts of the story but on balance, it made sense so he decided that she had been through enough this night and he would go along with her wishes and let it play out as Brad intended, keeping in mind that it was all predicated on the Barrons not discovering the switch.
For the next few weeks, Gina was on pins and needles anticipating a call from the Barron's but it never happened and eventually, another agent found a legitimate buyer for the property and it was sold less that 45 days later. Although she didn't get the whole commission, her cut was still in high six figures and she was more than satisfied with the outcome.
She never heard from Brad again but always wondered if he was keeping tabs on her from afar. In fact, she thought she had seen him once or twice in and around the area but wasn't sure about it. She never mentioned it to Matt for obvious reasons.
One thing that did develop was the occasional venture into the bondage world.  Perhaps because all turned out well for her, she did retain some erotic fantasies of that night and the memory of what a well-placed rope between her legs could provide.  She did some reading about it online and discovered that there were plenty of women who harbored bondage fantasies or more specifically, the damsel in distress scenario. From time to time, she would have Matt tie her up and gag her and after some time would pass, he would "rescue" her from her predicament and they would have incredible sex as a result.
She thought about Brad now and then and even dreamt about an encore with him in some exotic location where the events of that night would once again play out. She would be dressed in her sexiest clothes, complete with the garters and stockings and would have sex with him again and again, sometimes before being tied and sometimes afterwards. She discovered that she had a very vivid imagination, particularly when she was alone late at night by herself.  She kept a length of rope in her nightstand for that very reason. She called it Brad.  
END