Lyfftway To Heaven
by Victor Von Doum and animegirlwithagun
Part Three
Time, time, time, see what's become of me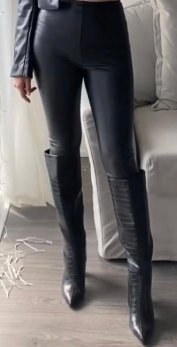 "Hey, Iza, you good?"
Iza looks up from her bed. A familiar outline takes shape. She hears "Sexual Healing" playing on her Alexa. "Iz, you good?" the voice repeats. Iza's eyes focus on the figure.
"Hea-hea-heather?" Iza stammers after removing her mouth from her pillow. "What are you doing here?"
"You told me to let myself in, remember? I'm always on time, too!"
Heather looks immaculate in her white long sleeved crop top, her black hair loose and cascading to the center of her back, a perfect dark-on-light contrast. She's poured her black leggings into a pair of light brown knee-high boots with 7cm heels. Mixed Asian herself, she and Iza have known each other for years, becoming best friends as kids in dance class, continuing this passion into their 20s. People often say they look like sisters: both crazy-pretty with their long black hair, both thin, both bootlovers, they turn plenty of heads when out together. Iza's amber brown eyes differ from Heather's deep brown ones, while Heather, the more outgoing and partying of the two, ironically rarely uses any sort of obscure filter when speaking.
"Look at you! I come to pick you up for a night out and I find you with pillow in your mouth and your legs practically Thighmastering your blanket. You've got a sheet wrapped tight around your wrists. Sheesh, bondage much?"
"Uhhhh…." Iza, wearing only her bra and panties, struggles to come up with a response. "What day is it?"
"It's Friday, spacey. We talked about two hours ago when you were still in your Lyfft, remember? Nice song, btw," Heather jokes about the Marvin Gaye classic, still playing over Alexa.
"Shit, right." Iza, suddenly remembering the course of events, reaches over toward her nightstand, picks up her iPhone, and checks her Lyfft app: ride requested at 6pm. App shows closed with no ride recorded.
"Iz, you all right?" Heather queries, noticing Iza's haste.
Iza puts her phone down and feels her panties: dry, with normal moisture but she jumps a little when she touches herself: also, way more sensitive than ever before. Heather notices Iza's furtive movements.
"Iz, hey, if you want to get off, maybe we go out to the bars and find a couple guys, ok?"
"No, Heather, that's not it. I-I-I-uh, had a special encounter today."
"What?! Who with?!"
"With my Lyfft driver, the guy from my dream!" Iza replies, as she notices Raphael's Wayfarers on her dresser, exclaiming to Heather, "and he left his shades right there!"
"Those are mine, Iz. Strong summer sunset tonight. I just set them down there. And puh-lease, you were just dreaming again. Killer dream, tho," Heather remarks, as she casts a wary eye Iza's way.

"What's in this bag?" Heather asks, as she notices the brown paper bag with Iza's recent purchases still on her bed. She starts removing them: the gray bandanas, the ballgag, the rolls of microfoam tape, the bunches of 3-meter rope, the Hitachi, all in their original packaging. "You little horndog, you weren't kidding!"
"No, I wasn't. Obviously." Iza states, matter-of-factly. Heather smiles and nods back with approval.
"BRB," Iza tells her, rising out of her bed, she walks to her bathroom. Passing her closet, she sees her outfit from earlier hanging there: berry red long sleeve crop top, tan leggings, and her favorite pair of knee-high black leather mid-heel boots, all in perfect condition without a wrinkle or rope-mark on them.
She closes her bathroom door to get ready for the evening out. On the way to remove the ponytail from her hair, her hands brush against both of her bra-cups. A newfound super-sensitivity of her nipples surprises her, and in a good way. "Ooo," she exclaims softly, careful not to reveal too much to Heather.
"Iz, I'm going to pour myself a drink, want one?" Heather yells out and heads to the fridge.
"Sure!" comes the reply, excited at her newfound erogenous sensitivity. "Love your outfit, btw! We're practically twinning!"

"Thanks. I got the inspiration from a hot and horny Asian gal-pal of mine," Heather shouts back as she returns with two drinks. Iza emerges from the bathroom, her dark and luscious mane now falling onto her back over her maroon-colored bra. As she puts on her crop top and leggings, Heather holds the drinks.
Iza puts on socks and steps into her black knee-high boots, zipping them up nicely. She and Heather sit on the bed next to each other.
"So, tell me about this quote-mystery Lyfft driver man of your dreams," Heather queries.
"He was a real angel. Raphael was his name."
"An angel, eh?" more than a bit sarcastically, but goes along with Iza's unintended metaphor. "Sounds dreamy. This air quote-angel get you off?"

"Like I've NEVER gotten off before. Three times. Massive." Iza knows that Heather thinks she's exaggerating. No way would she believe the true story.

"Holy orgasmic Trinity, Batman," Heather jokes. "He sure healed whatever frustrated funk was ailing you when we talked earlier. Gonna tell your boyfriend?"



"What, about all the quote-toys I bought and my three massive Os at the hands of an angelic Lyfft driver? Yeah, THAT's gonna happen," Iza laughs with her own sarcasm. "I seriously doubt he'd ever consider this kind of bondage with me…" as Iza's voice trails off in disappointment.
Heather replies, "Maybe just request a Lyfft again when you want Raphael to appear?" only half-joking.
"Excellent idea!" Iza realizes. "He was hot AF, even in his middle-aged self. Those eyes…would LOVE to get him to ring my bell again. And again. And again."
Heather chuckles, giving Iza a knowing look.
Iza continues, "I've absolutely GOT to get the bf into this whole scene. If he turns me down, I am so out. Even if Raphael can't get here at the speed of light, I'd settle for, heck, having him come over in, I dunno, maybe eight hours even."

Heather, a bit confused with the "middle-aged self" and "eight hours" comments, just goes with it. "So, can we say, 'every time Raphael flaps a wing, Iza's bell gets to ring?'"
"Yes, let's," Iza replies while raising her eyebrows and sporting a wry half-smile. "I'll sure drink to that."
END
Back to What's New