Alice
By J Williams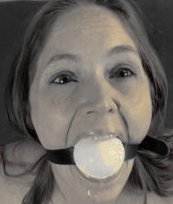 Alison and I hit it off in a nightclub in the darkest depths of east London at the after party of some sporting event we were both competing in.
She was petite, strawberry blonde with a dancers body, very pretty face and intellect so strong, well I will come to that.
Anyway, I commented on her heels with locking ankle straps and said they looked rather kinky. She enjoyed this line of chat and texted me a week or so later showing a ladies wrists and ankles hogtied with classy brown leather cuffs.
We met up at a very famous university, one of the best in the world where she was a leading post graduate. She was in their weird get up of black and white. Black skirt, heels and peculiar gown with hat, and to contrast a strict white shirt buttoned right up with a black tie at the collar. We had a drink and a chat, with a bit of nervous, awkward attraction.
We went for a walk down by the river. I tied her elbows behind her back with my belt, hidden by her gown. We kissed and a bit more. We walked back and I untied her in the last place possible before we hit people that might see.
The next time we met was in the USA where she was now working as a professor. After some cheeky chat on facebook and meeting up in town with mutual friends, and a quick snog here I held her arms tight behind her for some time, we met up properly for supper.
She as was wearing a figure hugging dress with a high roll neck. Under the roll neck I heard a light tingly and sure enough, there was a leather collar under there. It would complement the white ballgag and 100 feet of rope I had in my bag after supper. The walk home from which involved her arms once again being tied behind her above the elbows with my rope and her leather jacket draped over her shoulders, hiding it. Collar clinking away, we walked home quite merrily.
I shan't go into too much detail other than to say that by two in the morning, I was having a spliff out of the window and feeling very, very smug with myself. There, lying on the bed, was a beautiful professor at an Ivy League University, grinning at me around the relatively speaking, quite large, drool soaked white ballgag which matched, amazingly, the white leather collar with O ring that she bought herself and had been attached securely since 7 o'clock the previous evening. Her arms were tied in a box tied behind her, and legs at ankles and knees. She had been like that for about four hours. Yes, I was one very smug chap indeed. Before she went to work in the morning I used her vibrator on her while she was in her skimpy white underwear plus ballgag, collar, elbows tied touching, wrists, ankles and knees all secure.
END